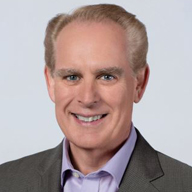 Bruce Wallace
Chief Digital Officer
SVB Financial Group
Professional Summary
Bruce Wallace is the Chief Digital Officer of SVB Financial Group. In this role, he is responsible for our client digital banking experience and channel delivery services, along with the sales, development, and delivery for our fee-based products, including payments, cash management, cards, merchant services, foreign exchange, and global treasury services.

Previously, Bruce was SVB's Chief Operations Officer, responsible for Global Operations and IT.

Prior to joining SVB, Bruce spent more than 20 years in a variety of management positions with Wells Fargo & Company. Most recently, Bruce was a senior vice president and manager of Wells Fargo's treasury management operations. He also held prior senior management positions in Retail Banking, Risk and Fraud Operations, ATM Banking, Payment Services, Card Services, and Commercial Banking Operations.

Bruce earned a bachelor's degree in accounting, graduating Cum Laude, from California State University, Sacramento. He is currently a member of the strategic advisory boards for FTV Capital and the FinTech Sandbox.

He has previously served on the boards for the SPD-Silicon Valley Bank Joint Venture in Shanghai, the International Accounts Payable Professionals Association, the Association for Work Process Improvements (chairman), Federal Reserve Cash Advisory Council, the Western Payments Alliance Board, the New York Clearing House Bank Operations Committee, and the BITS (Banking Industry Technology) Fraud Steering Committee.