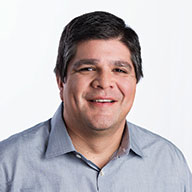 Albert Martinez
Relationship Manager
Private Bank | Northern CA
Office
Professional Summary
Albert Martinez is a Relationship Manager with SVB Private Bank, which contributes to the success of start-up companies by leveraging SVB's vast relationships and domain expertise. Over the majority of his nearly 20-year financial services career, Albert has specialized in working with venture capital-backed technology companies. Specifically, Albert spent the last decade managing relationships with a range of high-growth companies spanning pre-VC backed stage with zero revenues to multi-million dollar, international public companies.

Prior to managing client relationships at SVB Albert was part of its former investment banking subsidiary where he assisted clients with fundraising and M&A activity. Albert joined SVB in 1995 starting out in the Treasury Group where he handled asset management, interest rate risk management, the equity warrant portfolio as well as regulatory and SEC reporting.

Prior to joining SVB, Albert worked in consumer finance and earned an economics degree from San Jose State University.
Contact Information