We're pleased to provide you with insights like these from Boston Private. Boston Private is now an SVB company. Together we're well positioned to offer you the service, understanding, guidance and solutions to help you discover opportunities and build wealth – now and in the future.
Here's what you need to know.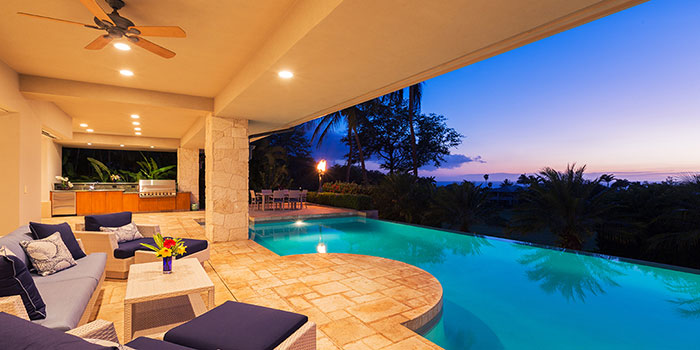 In today's highly competitive real estate market, many buyers are finding that the only way to get the home of their dreams — and not come away as a disappointed runner-up — is to make a cash offer.
Take the high-end San Francisco housing market, for example. About half of the sellers that real estate broker Ashley Barrington-Mace represents at Paragon Real Estate Group receive at least one cash offer.
"Even when the cash offers come in slightly below the non-cash ones, many sellers prefer the cash to others that carry inspection or financing contingencies," says Barrington-Mace.
A nationwide phenomenon
The trend toward cash-only home purchases is not unique to California or the West Coast. According to data from the Wall Street Journal, 28.8% of U.S. home sales last year (through November 2017) were all-cash transactions1.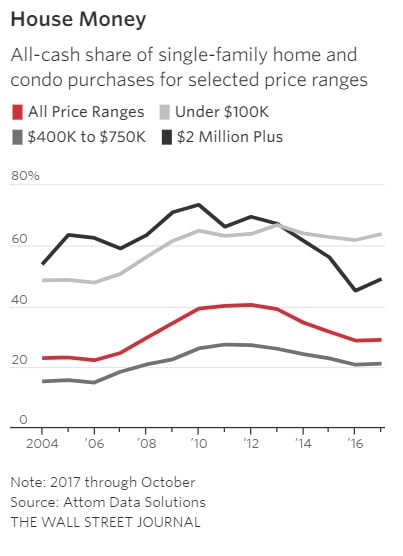 In SVB where, like San Francisco, there is little land available for building and an extremely low inventory of homes and condos, more than 35% of residential real estate sales in 2017 were cash only, according to Kevin Ahearn, president and owner of Otis & Ahearn Real Estate.
Multiple generations, limited inventory
But inventory and space limitations aren't the only factors that fuel the current competitive situation in Boston. There's also a huge demographic shift, says Ahearn. "The empty nesters have been downsizing from the affluent suburbs, selling large homes, and coming into the city with a good chunk of equity. So the downtown Boston market has become highly competitive. You have millennials, middle-aged people, and empty nesters all competing for the same housing at different price points." Offering cash can make a big difference in this environment.
Plus there is a psychological advantage, Ahearn says, in having one less financial obligation to think about. "The mindset of somebody paying cash is very different than that of a person thinking about paying a mortgage every month. It can be comforting to pay cash and not have to worry about it. So, people who are able to pay cash often prefer to do so."
Assuming you have the option, is cash the best choice for you?
"If you're considering a cash deal, you'll want to check in with your financial, investment, and tax advisors to take a holistic view of how this might affect your overall financial strategy," says Patrick Leahy, Senior Vice President, Residential Loan Officer, SVB Private.
Leahy suggests looking at:
Your need for the cash in the short term (12 months or less) for large purchases, expenses, or emergencies.
How the use of cash affects your overall financial plan.
How it affects your investment portfolio.
- Does taking out a large amount of cash disrupt your investment strategy by changing your asset allocation?
- Will you incur significant capital gains if you sell securities to generate the cash?
- Could this money potentially deliver better long-term performance by being invested in the stock market?
What the tax implications are if you lose mortgage interest deductibility. The new Tax Cuts and Jobs Act of 2017 limits the deduction of mortgage interest for new buyers to interest paid on mortgage debt up to $750,000.
Other strategies that preserve your cash
The right decision for you depends on your individual situation, your short- and long-term cash flow needs for your family or your business, and your view of your personal real estate as an investment. As Kevin Ahearn observes, "First and foremost, people buy homes to enjoy them and have shelter. That's where they want to live." The fact that the property may be an appreciating asset or offer tax advantages are almost always secondary considerations, he says.
If you're looking for other ways to buy the home of your dreams in a highly competitive market place and preserve your cash for other uses, Leahy suggests two alternative strategies:
Make an offer with a portion in cash and the balance quickly financed to meet your unique borrowing needs.
Consider applying for a post-closing mortgage. A few banks, like SVB Private, offer a mortgage after a cash purchase to replenish the cash used.
How SVB Private can help
When you're under pressure to close a real estate deal quickly and competitively, SVB Private offers mortgage lending programs and strategies that can make the difference between purchasing your dream home and losing it to another bidder. Your SVB Private advisor can also work with you to review how the decision to buy your dream property fits into your overall financial plan and investing strategy.
---
1 - The Wall Street Journal, Dec. 2017,https://www.wsj.com/articles/want-that-house-youd-better-pay-in-cash-1512469800