When creating a family office, it is critical to understand the professional profiles and expectations for the key family office positions. Larger family offices will need people in the C-suite providing oversight over all these functions. Smaller ones may not require them, they may not have the resources to fill them, or executives may be able to wear multiple hats.
The C-suite in family offices
Leadership matters in all organizations, including in family offices. This is true across all senior roles, although the CEO role at a family office is particularly hard to fill, and for many family offices, the responsibilities cannot be successfully outsourced to a service provider or vendor. That is why it is not uncommon to see smaller or newly formed family offices headed by family members. They may not want the job particularly, but no acceptable candidate can readily be found to take it. Similarly, the looming retirement of a longtime CEO can pose an existential threat to the sustainability of a family office, particularly if it coincides (as it often does) with a change in generational control of the family itself.
The position of CIO likewise poses a challenge to fill. Top candidates all sport large salary requirements and may insist on bringing with them well-paid staffs of analysts, strategists, and other support people. Competition to hire CIOs comes not just from other family offices, but from all corners of the asset management industry, pushing up compensation levels. Faced with this kind of expense, small and midsize family offices often decide to outsource their investment function to one of the growing number of firms providing external CIO services.
The remaining two positions listed here, CFO and operations manager, tend to be easier to fill because candidates can be drawn from a broad range of industries, not just the upper tiers of the wealth management business.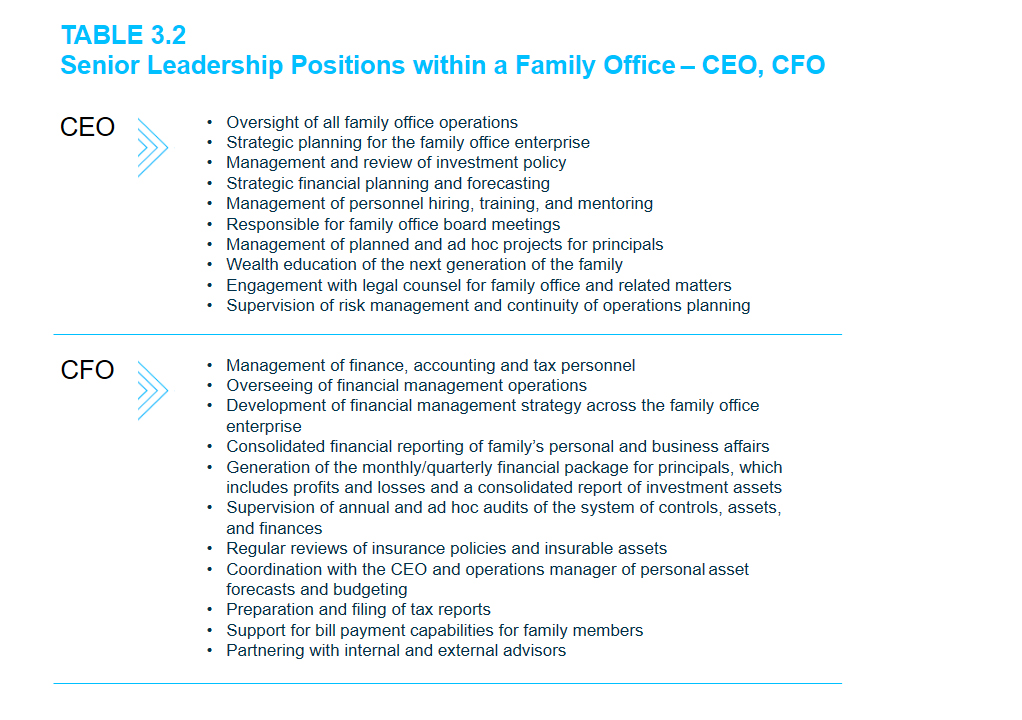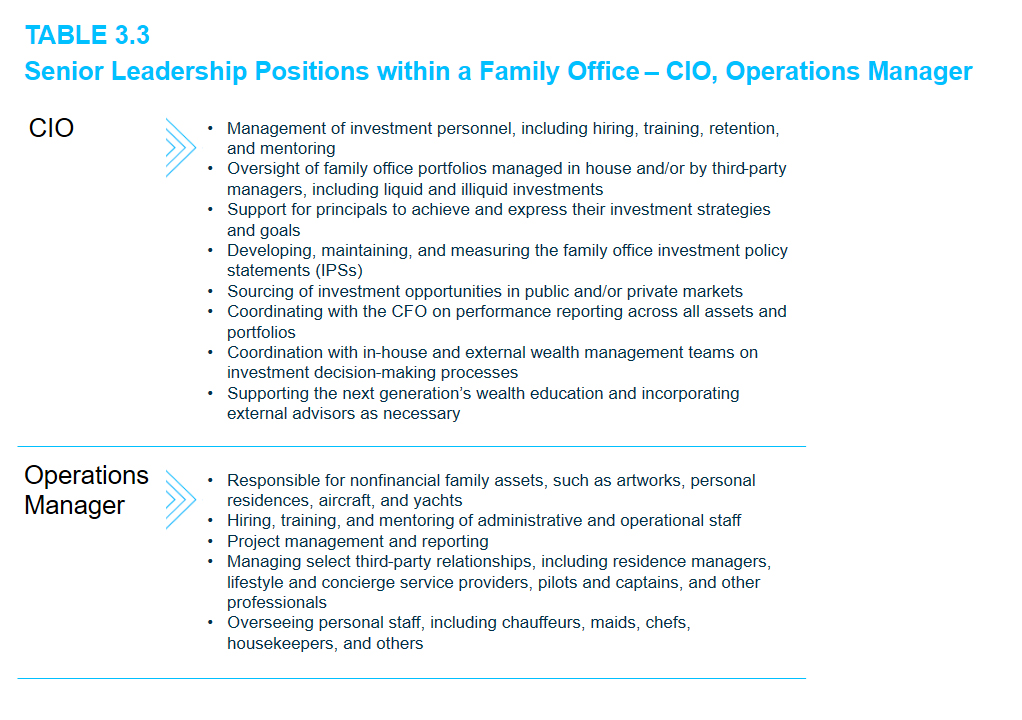 Tables 3.2 and 3.3 list the key areas of responsibility for each of the senior leadership positions within a family office.
This is an excerpt from The Family Office, A Comprehensive Guide for Advisers, Practitioners, and Students. Now available where books are sold.
Adapted from The Family Office by William I. Woodson and Edward V. Marshall. Copyright (c) 2021 Rybat Advisors, LLC. Used by arrangement with the Publisher. All rights reserved.
Our experienced family office team can provide the resources and expertise needed to effectively address your complex needs. For more information regarding our capabilities, visit our family office services webpage today.