Effective lifestyle management
Wealthy families typically travel a great deal, own multiple homes, enjoy premier sporting, social and artistic events; and often collect wine, artwork and automobiles. When the responsibility for ensuring these activities are executed effectively falls on the family office, it is incumbent on the office to hire the appropriate staff.
With few exceptions, it is best to outsource these responsibilities. However, outsourcing the duties does not absolve the family office of their responsibility to oversee, coordinate and periodically reassess how services are being used and delivered.1
Family offices often dedicate staff members to manage these functions and the CEO may oversee the service delivery personally.
Effective estate management
Wealthy families rely on a circle of trusted advisers to oversee their financial assets. However, much of their wealth is often invested in multiple residences, art, aircraft and watercraft as well as other luxuries whose value often exceeds their other investments. Given the unique nature of these assets and the services they require, a family's personal service organization is frequently run separately or in parallel to their family office.
The scope of the responsibilities involved in running a significant estate, if misunderstood or underestimated, can present a serious risk to the family. Understanding the ecosystem and risks that accrue is key to building an organizationally coherent and skilled estate management and private services team.2 An equally important benefit of this understanding is the ability to quickly assess risks and identify when to bring in additional resources.
Recognizing the interdependencies of assets and services
Organizations that support wealthy individuals and families are known to form networks that create the framework for their lifestyle. The strength of these networks can be evaluated based on the health of core components and their related areas of focus, as illustrated in figure 5.1 below.
Performing a regular assessment of these areas can identify strengths, opportunities for improvement and risks to the family. An unaddressed weakness in one area will ultimately affect others.
For example:
A poorly integrated technology system can undermine communications, compromise security and put the family at risk

Deferred maintenance can lead to erosion in asset value, safety issues and inconvenience to the family

Careless or inadequate staffing can result in costly turnover, theft or endangerment of privacy and security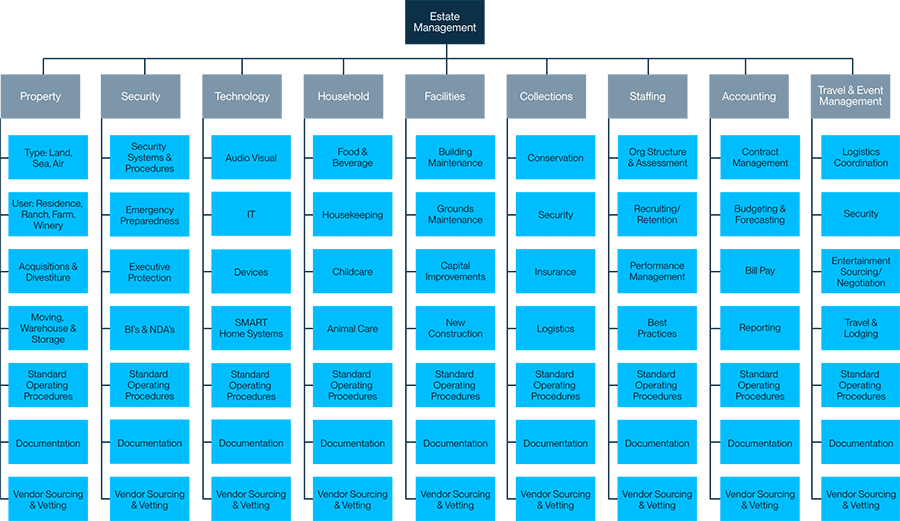 The assessment findings can be used to develop and implement solutions, either internally or with the assistance of outside experts.
Effective property and facilities management
Property acquisition happens organically. Over time, a property portfolio will often become geographically dispersed. Properties at this level are "commercidential"; that is, a hybrid of highly finished, personalized architecture combined with an infrastructure of commercial size and complexity. These residences are frequently custom built, occupying significant square footage and associated acreage.
It is not uncommon for at least one property in a family portfolio to have a commercial aspect, such as a ranch, farm or vineyard. Privacy and recreational interests frequently equate to homes in remote locations subject to extreme climates—the tropics, for example. If a property is not a primary residence, a family's use pattern may vary considerably, affecting the property's security profile.
Without a mechanism for analyzing and organizing the management of these properties as they come into the portfolio, families risk staffing and operating redundancies and increased risk to the physical asset itself. The following questions will help a family understand the impact of a property acquisition.
Has there been sufficient due diligence prior to acquisition to determine whether local resources can service the property?

What will the property require to meet the family's needs?

What are the anticipated operating costs after purchase relative to the expected time that the asset will be used annually, its projected long-term hold and its expected return on investment?

Will the property be staffed full or part time?

Will staff work at multiple properties?

Will the property be available for guests as well as family members?
Managing private aviation services
One of the perks of having substantial wealth is the ability to fly privately. Of all the luxuries that come with wealth, this is one of the greatest. Private aviation allows for greater scheduling flexibility as well as increased privacy and security.3
Families that wish to fly privately face a fairly steep learning curve regarding aircraft access, costs, plane types, managing pilots and staff, taxes and other issues. Generally, families enter this market over time, choosing first to charter aircraft and then to consider purchase options.
Families generally find that outsourcing to charter or fractional ownership companies makes the most sense unless they fly a considerable number of hours each year (e.g., more than 100), have unique needs in terms of aircraft or destinations, or have developed a hobbyist interest in the industry.
The same approach is often taken regarding hiring and managing flight departments. Numerous service providers can provide pilots to private plane owners without adding the pilots to the family office staff.
Understanding private aviation business models
The following are the most common arrangements for private air transportation.
Full ownership: A family purchases an aircraft and either directly or indirectly and employs a crew to manage all aspects of aircraft operation. Unlimited use is available within the constraints of the aircraft, operating budget and availability of flight department personnel.
Shared ownership: Two or more families jointly purchase an aircraft to lower the effective costs. In all other ways, this option resembles full ownership.
Fractional ownership: A family purchases a fraction of a plane that is managed as part of a fleet overseen by an aircraft management company offering what is known as a "fractional program." The aircraft is managed by the fractional program, with the family having privileges to use other (larger and smaller) makes and models offered by the program.
Jet card/bulk charter: A family purchases flight time in 25-hour increments from a fractional program to be used within an annual time frame. In addition, numerous traditional charter companies offer comparable block charter products designed to compete with the jet card programs.
On-demand charter: A family contracts with a charter operator to conduct single or multiple flights on an ad hoc basis. Costs are based on the flight itineraries and types of aircraft requested.
Analysis of any business aviation alternative requires a basic understanding of the fixed and variable costs of owning and operating a business jet. An overall operating budget should be prepared for each method of air transportation services discussed above.
This is an excerpt from The Family Office, A Comprehensive Guide for Advisers, Practitioners, and Students. Now available where books are sold.
Adapted from The Family Office by William I. Woodson and Edward V. Marshall. Copyright (c) 2021 Rybat Advisors, LLC. Used by arrangement with the Publisher. All rights reserved.
Our experienced family office team can provide the resources and expertise needed to effectively address the issues and challenges you face. For more information regarding our capabilities, visit our family office services webpage today.
1The authors would like to thank Kathy Reilly of Lifestyle Advisory for her contributions to this chapter. Kathy Reilly, "Lifestyle Management and Concierge," (unpublished manuscript, July 24, 2020), typescript.
2The authors would like to thank Anne Lyons and Judy Boerner-Rule of Tapestry Associates for their contributions to this chapter. Anne Lyons and Judy Boerner-Rule, "Estate Management," (unpublished manuscript, July 24, 2020), typescript.
3The authors would like to thank Keith Swirsky of GKG Law for his contributions to this chapter. Keith G. Swirsky, "Private Aviation" (August 19, 2019), typescript.