A recovery by any other name…
It's too early to predict with any certainty what shape the global economic recovery will take, and economists have been producing an alphabet soup of charts sketching possible scenarios. Will it be V-shaped, U-shaped, or L-shaped? Or what about W- or M- shaped?
Let's take a closer look at some of the more typical recovery models and how they might apply, or not, this time.
Though a bit optimistic, there are a few market watchers who suggest that a V-shaped recovery could be on the horizon. But what exactly does V-shaped mean? In this type of recession, we would expect to see a sharp, though brief, period of economic decline with a clearly defined bottom and a strong recovery directly following. In this scenario, the strength of the economic recovery is correlated to the severity of associated recession and the V looks like this: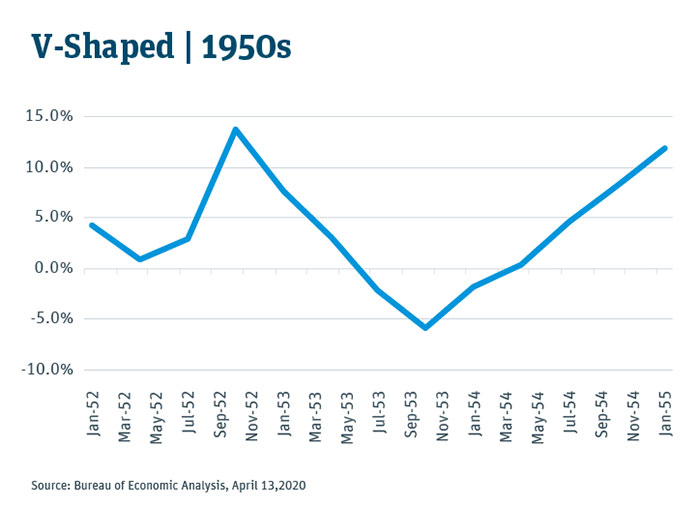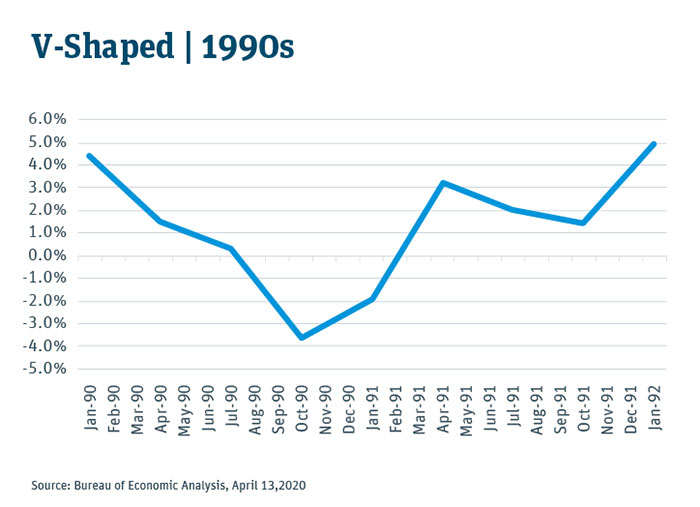 Looking at China, the epicenter of the pandemic, it is beginning to appear (if one believes at least some of the early data) that recovery is underway, and the case could be made that the U.S. may follow in the same manner. In fact, there are similarities with past recessionary periods of the late '90s and the 2008 GFC that could suggest there might be a more immediately positive outcome. Already, there are major shifts in market dynamics amid the most rapid global economic deterioration ever seen. Today, FAANG (Facebook, Amazon, Apple, Netflix, Google) and many similar stocks are no longer cheap, coming close to or reaching new highs in the wake of indiscriminate selling. Is this a sign of a V-shaped recovery? Certainly, from a risk assets perspective, though not necessarily an economic one. Frankly, there is literally no limit to the policy stimulus put forth by global central banks and to the extent that those actions bring more certainty, it should continue to be positive for equity markets. Assuming this is the case, it is unlikely that policymakers are going to suddenly decide to cut the stimulus.

Given the current shock came out of a virus, and not a financial instrument, excessive leverage, or technology bubble, it should be less concerning to the markets that there are no automatic checks and balances or that policymakers are promoting significant risk taking. The Federal Reserve is now purchasing nearly everything and accepting corporate debt as collateral, including junk bond ETFs and 'fallen angels" now downgraded to junk during the pandemic. If the virus is "under control" in the next couple of months at best, the economy may be able to return to pre-crisis output levels early next year. Production is on the rise in China and its economy has been restarted, but is it sustainable if consumers remain nervous or the virus mutates and resurfaces? The reality is that the fundamentals for risk assets support a V-shaped scenario as equities are no longer oversold, and, in this scenario, capital markets are now focusing on the economic restart, tempered by the potential of another "black swan" resurgence of the pandemic and the outlook on inflation. However, investors are likely to hold on so long as they perceive light at the end of the tunnel. They will also analyze other indicators such as household savings, online spending, patterns of capex and measures of credit stress to help gauge when the economy is able to restart. Bottom line, recovery in risk assets aside, I think it's a bit too optimistic to view a V-shaped economic recovery as likely given what we don't yet know.
The L-shaped recession, on the other end of the spectrum, is the dreariest and looks like: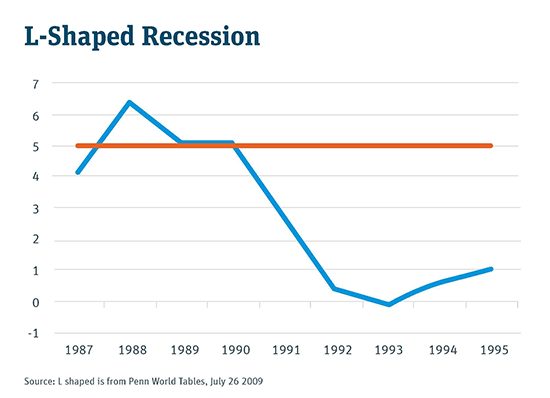 The L-shape occurs when an economy experiences a severe drop into recession or depression and then it takes years to return to "normal", if it ever does. It is characterized by long periods of underperformance, which was observed in Japan in the 1990s. This is effectively the worst-case scenario, and could result if, for example, strict lockdown procedures last for the rest of the year. Growth would decline and not recover until next year, and perhaps not reach pre-COVID-19 levels until 2023-2024. Given an extraordinary amount of stimulus already in the system – though its full effect not yet known– I think it is unlikely that we will see this type of depression.
Analyzing what we do know at this point, I believe that a U- or W-shaped recovery is most likely. The W refers to a model with more peaks and valleys, while a U-shaped recovery takes longer than a V-shaped one and has a less clearly defined bottom. They're not unlike sitting in a bath tub, as a former Chief Economist for the IMF once said. "You go in. You stay in. Sides are slippery. There is some bumpy stuff in the bottom, but you don't come out of the bath tub for a long time." The U- and W-shaped recoveries look like this: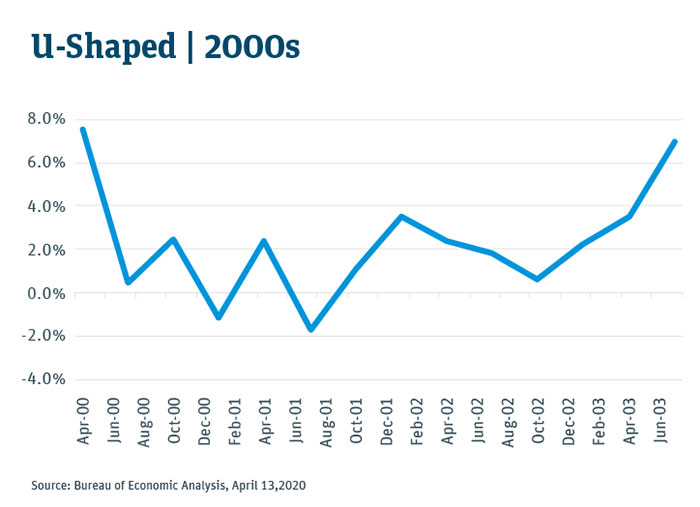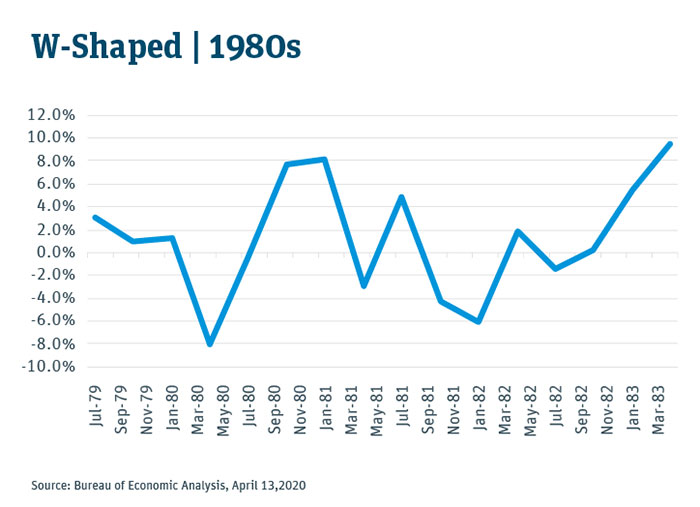 Both models assume the virus uncertainty continues through the summer. While there is certainly the hope and expectation that consumer consumption will increase due to pent up demand over the last few months, the behavioral and social aspect of stemming from what we know now about the spread of the virus suggests "normal" (or anything close to it) will take quite some time. While some individuals seem ready to resume pre-virus activities, there are others who will not be in any hurry to gather in large crowds, go to an office or mall, or dine in a restaurant. Even for those itching to travel, the likely higher price of airline tickets and other expenses could be a deterrent. Additionally, for the many would-be consumers who have lost their jobs and watched savings disappear, normal consumer habits won't return as quickly as policymakers hope.
Under this scenario, 2021 will likely be the year of recovery, with growth accelerating more quickly than in the worst-case L-shaped scenario. The W-shaped scenario would see dips alternate with growth spurts. Driving the scenario will be what happens in the fall; whether the virus spread continues ahead of a vaccine and widespread availability of testing and treatment. Given what we know at this point, I believe this to be the most likely possibility and that we are most likely to see either a U- or W- shaped recovery for the global economy.
On a more granular level, the reality is that the economic ebb and flow will be regional and industry-specific, as will be the recovery. We are certainly all in the same storm, though not in the same boat. Hospitality and travel may never be the same, while tech-based industries enabling virtual activity may grow wildly beyond expectations. Similarly, certain companies, for example those in the content streaming or logistics businesses, will do well and have smaller V-shaped recoveries, just as industry leaders Netflix and Amazon have performed in recent months. But many will follow a more U-shaped path. And some, unfortunately, will not survive.
In the meantime, most businesses will have to adjust their business models, cut costs and revenue forecasts or pull off more dramatic pivots. These times require new levels of nimbleness and flexibility and an eye for innovation and opportunity and, given this, I have every expectation that we will come out of this better and stronger.
Predicting the shape of the recovery curve is not as important as being optimistic and ready to tackle what comes your way. Whether it's a WW recovery, a J-shaped, Nike-like swoosh or any of the more common models noted above, the innovation ecosystem is poised to survive.