Key Takeaways
Markets declined more rapidly than they ever have historically.
Can we take lessons from the past?
It is critical to maintain perspective and focus on things we can control
---
As I sit in my home office on Monday morning, like many of my colleagues and associates around the world, I can't help but think that this is an incredible way to begin my third week as CIO at SVB Private Bank. We are in the middle of a pandemic, with the global economy likely headed into recession. It is a new and uncertain time, but the last few weeks of market volatility are not unlike past market downturns and economic recessions. We must realize that while the ride will likely be bumpy for some time, the markets and economy will rebound. It will be challenging for some, but innovation companies are resilient. If there is any place to be focused, we are convinced that innovation is the best place to be.
The market now
So, what is going on in the markets right now? It's all changing fast in real time, but over the past week, the S&P 500 was down almost 9% as of March 13, nearly 20% off its record high in mid-February. This morning the markets were off another 7%-8% depending on which index you are following, which triggered circuit breakers to halt trading and presumably, calm nerves.
We are certainly amid a technical recession, and a financial recession is likely on the horizon. Only time will tell how severe it may be, as it will depend on several factors, including, how quickly the coronavirus pandemic is contained and the magnitude of stimulus packages passed to help shore up the economy. On Sunday afternoon the Federal Reserve announced that it would drop interest rates to zero and buy at least $700 billion in government and mortgage-related bonds as part of a wide-ranging action to protect the economy. This is the second cut in a month, at 100 bps, and not to be taken lightly. The Federal Reserve's intent is that this act of stimulus will help bolster the economy and prompt people to start spending. However, it is uncertain whether this will work and if there's one thing the markets do not like, it's uncertainty. We are still waiting to hear about fiscal policy measures that could be designed to further stimulate the economy.
Can we learn from the past?
While we have experienced downturns in the past, this current crisis is a bit different. Let's take the 2008 global financial crisis as an example. It was a real estate market collapse that turned into a banking crisis, with contracting credit leading to lowered output. The situation this time is driven by a health crisis leading to lowered output and followed by a likely financial crisis. But what does this all really mean? There's a lot that we don't know and won't know until we see it unfold over time. However, we can take comfort that over the last three decades we have seen a savings and loan crisis, wars in Iraq and Afghanistan, 9/11, and several international bond crisis, including one that nearly decimated the global economy. We've also had a dot-com boom and subsequent bust, three "normal" recessions, several pandemics, and, of course, the Global Financial Crisis and the ensuing Great Recession. After all these events, the markets rebounded to new levels as shown in the chart below.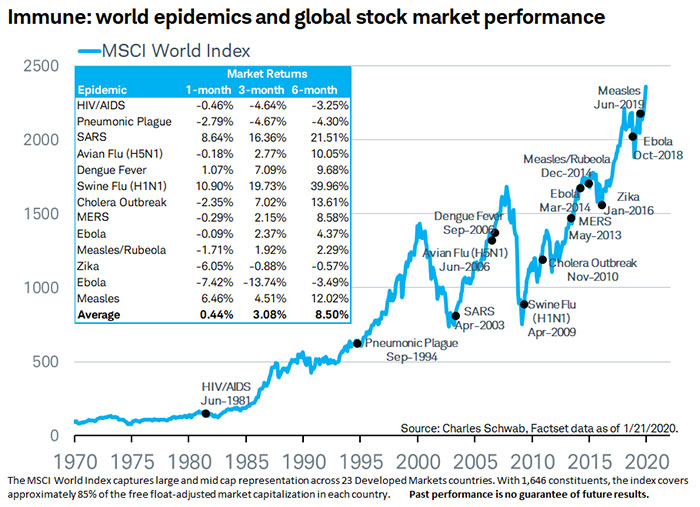 Strong fundamentals
Do I expect markets to rebound this time? I have every reason to believe they will. For one, history tells us it will. And two, we must focus on the fact that before the pandemic began, we were experiencing a strong economy underpinned by strong fundamentals. When the markets do rebound, I expect we will see low rates, low energy prices and equity markets that have corrected to attractive levels. All of this points to a strong foundation for the next bull market. It may take some time, but it will come.
Focus on what you can control
So, what do we do now? From a financial perspective, we need to make sure our portfolios are positioned well in these markets.
Don't panic. Resist the urge to have to do something for the sake of doing something. The reality is market prices react immediately to both good and bad news. There are going to be a lot of ups and downs in the coming months. If you were already planning to enter the market with a large cash position, legging in the coming months might be a great strategy. Depending on your situation, rebalancing your existing portfolio to properly re-weight equities that have been in some cases unfairly battered is an appropriate way to maintain discipline in your long-term strategy. It may also be a wise time to consider tax-loss harvesting and other tax-efficient strategies, including life insurance planning. Though the knee- jerk reaction is to throw your hands up and fly to the "safety" of cash, know that timing the market can be a very dangerous thing. It requires clairvoyance not once, but twice as you exit and re-enter the market. Said more plainly, you risk missing good days in the markets if you aren't in it.



Keep Perspective. This is not the first time the world has experienced pandemics and global market crises. And while this crisis began as a health crisis, it is certainly not the first virus we've ever seen. My friends and family in Asia can attest to that, given SARS, H1N1, and swine flu. We've faced down Zika and Ebola. Clearly, how this crisis will play out will have a lot to do with how quickly the virus spreads, if and when there will be a cure, and how much it impacts the global economy. The good news is that China is already getting back on its feet, with new cases diminishing there, massive government stimulus packages announced and production starting again. We need to be aware and closely monitor those who are further ahead on the curve than us and take as many cues from them as we can to help manage through all of this.



Be resilient and adaptable. Those who keep calm and innovate will be the valued contributors in all of this. I've already been floored by how the small businesses in our community are pivoting to identify new sources of revenue and figuring out how to keep afloat. I've found it equally heartwarming to see how much support there is from within the community to help each other out in these times. I know this is happening in many communities around the world. This is why I know we will get through this and be even stronger for it.