Key Takeaways
Jane Leung gives four reasons to remain optimistic in 2021.
Why the greatest risks to a return to normalcy are related to the pandemic response.
Why clean energy, emerging market, and commodities could be poised for growth.
---
It is the dawn of 2021, and the world looks completely different than one year ago. The events of only the first week underscored that unpredictability is still with us and, in some ways, it felt as exhausting as all of 2020 combined. Whether viewed through the lens of astonishing growth in the equity capital markets, challenges to our democratic processes, a world health crisis and ensuing shocks to global economies or massive personal and professional lifestyle modifications, life has undoubtedly changed in meaningful ways for everyone. But that change comes with different impacts and in different degrees. For many, 2020 encouraged deep reflection and greater appreciation for what is most important. For that alone, 2020 will certainly be unforgettable. But not one to dwell on the past, I can say without a doubt that I am hopeful for the future and believe there are many reasons why 2021 will mark the start of a return to normalcy – even with a long and bumpy road likely ahead of us.
Why do I think this?
The market likes Joe Biden. Even though a Democratic-controlled Congress could create volatility amid concerns of sweeping policy changes to the status quo, the reality is that we need more stability. Overall, the feeling is that the new administration and Congress will provide it. Further, President Biden has a lot of larger fish to fry, namely controlling the spread of the pandemic and healing a deeply divided nation, such that many other expected policy changes could be delayed for the first part of his term.

Vaccines are on the way. Several COVID-19 vaccines have already been or shortly will be approved and rolled out all over the globe. This optimism is likely to lead to stronger growth in the intermediate-to-longer term. Of course, with the pandemic still raging and mutating, the slowdown in global growth continues, but that should quickly pass. Additionally, the Moderna and Pfizer vaccines have approximately a 95% effective rate -- a light at the end of the tunnel that we all are happy to see.

There is pent-up demand. There is a lot of money on the sidelines earmarked for investment or purchase of consumer goods and services as a result of the pandemic and global lockdown. Unlike the 2008 recession, we are not seeing the crimped demand that typically occurs in environments where there are rising interest rates or where shaky markets undercut demand for goods and services. While supply was shocked by the pandemic, we are already seeing global recovery there, and the U.S. should follow suit.

Recovery is happening. We already have seen a bit of the V-shaped recovery in the equity market after its bottom in March, but given the persistence of the pandemic, full recovery is still being hampered. While consumer spending has resumed to some degree, it's still lower than normal. (IHS Markit reports US personal consumption is approximately 7% below fundamental levels). In the 2008 recession, it measured at or above normal levels for the time.
All this is good news, but as I note above, getting back to "normal" will take time. Stimulus policies often need to be in place between 12 and 18 months before making a full impact on the economy. The initial tranches of stimulus staved off immediate concerns around mass layoffs and bankruptcies, and we are expecting to see more positive effects throughout 2021. In fact, the US money supply and monetary base growth have not been higher since the 1940s, the result of the unprecedented stimulus response. Inflation shouldn't be an issue for the next few years, but something to keep our eyes on as the effects of accommodative monetary and fiscal policy take hold. Policymakers are going to have to closely watch for inflation as it has a way of quickly getting out of control, which would then in turn impact global capital markets.
Where could we falter? At this point, the greatest risks appear to be related to pandemic response:
Immunizing most of the world's population is likely to be a challenge. There have been reports of bad players sabotaging efforts and skepticism about vaccine safety compounds the problem.

Virus mutation, while expected, is causing additional concern.

Vaccination side- or after-effects may slow efforts.
With all this as the backdrop, many clients are asking which investment themes are well-positioned for growth. A few come to mind that I'll be watching closely over the coming months:
Clean Energy- President Biden, Congress and state lawmakers have made it quite clear that clean energy will be a focus in the coming years. Several research organizations have predicted that it is likely that the US can reach 90% clean electricity by 2035, thanks to falling wind/solar/energy prices. And it is expected that forthcoming policy changes could reduce emissions by 90% as shown in the chart below.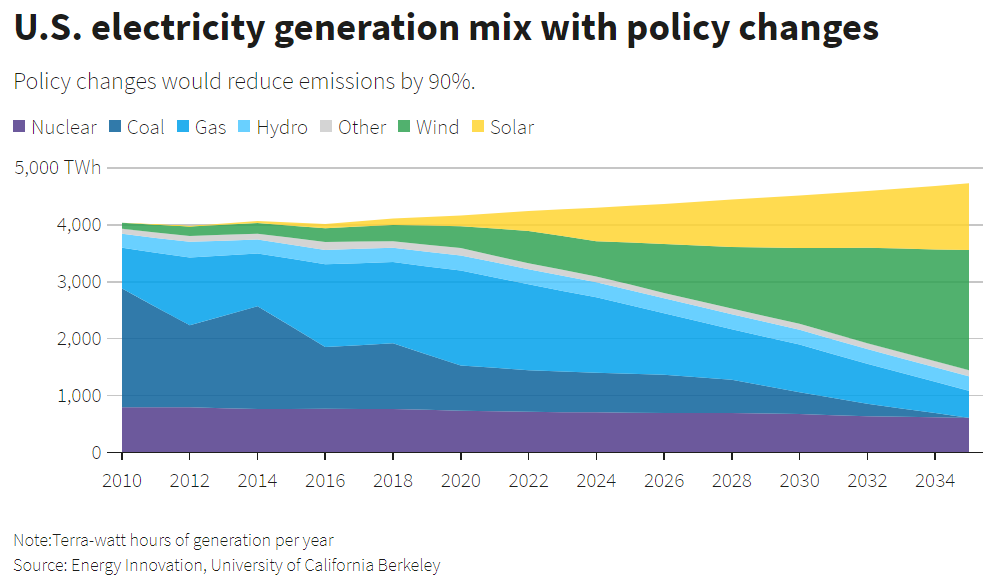 Emerging markets – Given the US is behind the curve with respect to its pandemic response for a variety of reasons, I would expect other nations' economies to jump ahead both on an absolute and relative basis. While certainly advanced economies such as the US and Europe are expected to recover and grow in 2021, it's emerging markets that have the brightest outlook according to the IMF, led by China, India and the developing Asia region. Strict COVID protocols have allowed several nations to largely return to normal levels of productivity.
Commodities - Over the intermediate-to-long term, this asset class looks to benefit from tailwinds, partly because of the economic recovery and also due to inflationary pressures and possibly a weaker dollar expected over time. Another important factor is the global trend of increased electricity use (e.g. electric cars, modernization of China's electric grid). I've talked about gold previously and would expect a continued rise as uncertain times – including global economic stagnation and geopolitical tensions – create a ripe environment for growth. Additionally, low real yields in the US would support demand for gold.
All in all, there is a lot to watch for amid the 2021 recovery, and a lot of reasons to be optimistic. Change is on the way, and I am looking forward to it.