Recently the Federal Reserve Board released final amendments to the check collection and return provisions in Regulation CC. This amendment protects depository institutions and clients from the inadvertent or malicious deposit of the same check twice.
Therefore, effective July 1, 2018 we will require that "For Mobile Deposit Only" be added below the endorsement on any mobile check deposit.
Here is an example of how you will need to endorse your check for mobile deposit.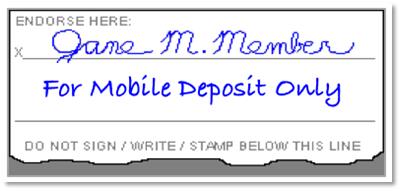 If you forget to include the endorsement on your mobile check deposit you will be prompted to add the endorsement and retake the image.
If you have additional questions, please contact your relationship manager or advisor.
Search our Professional Directory | Send a Help Request