Your login experience will have minor changes as we merge the SVB and Boston Private websites

On Friday evening, April 15, 2022, we will be launching a new Private Bank brand and website for Boston Private clients and online visitors. Our new brand, SVB Private, unites the resources of Boston Private and SVB Private Bank, which have been realigned to better serve your needs as a valued client.

The bostonprivate.com website will direct visitors to a new website that is part of svb.com. The new platform will replace our existing website and will offer a more comprehensive view of our insights, services and solutions.

When visiting the new website, you will notice a slight change in the Digital Banking login process, as noted below. If you visit the existing Digital Banking login page using a bookmark, the bookmarked page will redirect you to the new page. All online bookmarks will automatically redirect you to the appropriate pages on the new website. However, we recommend that you update your old bookmarks.

The image below illustrates the look and feel of our new website.


Logging in to your Private Banking accounts

When visiting the new website, you will see a dark blue Login button on the top right of the screen. Once you click the Login button, a dropdown menu will provide four login options as shown below. To log in to your Digital Banking account, select "Digital Banking – For legacy Boston Private Clients."

Please Note: Your username and password will remain the same.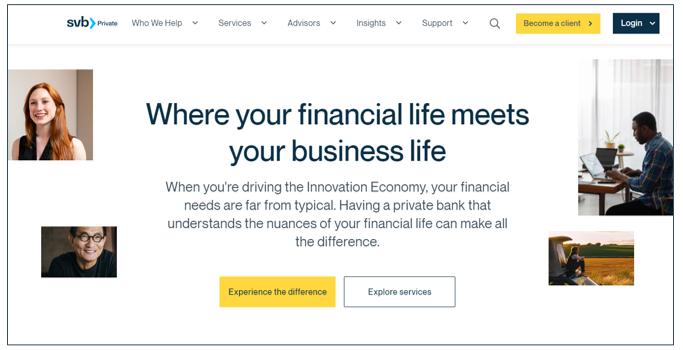 Updates to Digital Banking and the Digital Banking Mobile App
The look and feel of Digital Banking will be updated the week after the website is updated. Between April 15 and 20, Boston Private Digital Banking will have its familiar look. After April 20, you will see the following changes:

The browser-based Digital Banking experience will change to the SVB Private brand with new logos and colors
The Digital Banking mobile application will have an SVB Private icon and a new name. There is no need to download a new mobile app. If you have automatic updates enabled on your device, your current app will change automatically
The Alert and Notification emails you receive from Digital Banking will now be sent by SVB Private
Again, your username and password will not change and there are no changes to the app functionality with this update.



Discover our new Help and Support Center



To ensure you always receive the help you need, we have also revised and enriched our online support services. Our new Help & Support Center provides the resources you need to quickly access and manage your accounts online.




Please stay tuned for additional details regarding our new platform in the coming weeks. We're committed to making our online enhancements as seamless as possible for you.