Take a Fresh Perspective on Startup Success
---
It's rare to meet a CEO who believes his biggest strength is being naïve. Bart Stein, CEO and co-founder of Wim Yogurt, says the success of his in-home self-serve frozen yogurt business is due to his completely fresh perspective. "I really love the idea of jumping into something that I had no experience in," he says.
It all started with a craving. While sitting in a beautifully furnished New York home, he could see a waffle maker, popcorn maker and even soda maker. But he wanted ice cream. A startup idea was born. Today, Stein and his partner are planning to launch on a national online retail site and expand to brick-and-mortar stores. "Something as simple as an offhand comment can turn into what you spend almost three years of your life working on," he says.
Learn how to work with a team
Despite having no hardware experience, Stein began working on developing a new system for making frozen yogurt at home. Wim sells the yogurt machine and packaged ingredients to make customized frozen yogurt in your own kitchen.
But the CEO was in for a big surprise early on. He entered the startup world with the idea that he would be working for himself. "What you quickly realize is that you're not that autonomous as an entrepreneur," he says. Working with investors, partners, vendors and a growing workforce, Stein immediately learned the importance of being a team player in a startup environment, even as a CEO.
In fact, he realized he couldn't build his company without a large and diverse group of team members, from whom he continues to draw inspiration. One of his favorite aspects of running Wim is that he works with people from all over the country and all over the world. And here was another surprise: "You actually, in some ways, work for many other people just as much as you think you work for yourself."
What you quickly realize is that you're not that autonomous as an entrepreneur.
- Bart Stein, CEO and Co-Founder of Wim Yogurt
Hire people willing to take a chance
Stein employs a unique recruiting process at Wim, one that he feels is essential to building a successful startup: "I, personally, love people who want to do things that they're unqualified to do." He describes the perfect team member as someone who is "a little bit crazy, a little bit weird and a little bit willing to step way outside of their comfort zone." He expects everyone to bring innovative and creative thinking to the table. "You need people who are really comfortable with uncertainty, ambiguity, new challenges," he advises.
Stein says finding great talent requires strong personal connections. Recruiting is a part of his regular activities, a role "a CEO can't sit out." He believes outsourcing talent acquisition simply isn't an option for a successful CEO. "You really have to get out there and meet people, whether it's through your network, or just through cold emailing people, which I've done many times in my career." Stein calls this continual pursuit for acquiring top talent "a game of persistence."
When you're building a startup you want people who are willing to step way outside of their comfort zone.
- Bart Stein, CEO and Co-Founder of Wim Yogurt
Choose a bank that understands startups
Another need Stein recognized was to develop a relationship with an experienced banking partner. After choosing Silicon Valley Bank, Stein quickly was impressed by the level of personal service he received. Noting that he frequently calls SVB employees on their personal phones at random times to get things done, he says, "I don't think most people associate banks with that type of nimbleness and flexibility. The most valuable part of being with SVB is, no doubt, that you feel like you're working with a startup bank and not just a big, anonymous bank."
LET'S GET STARTED
Are you an innovator seeking a banking partner to help you move your big idea forward? We offer financial services to companies in the technology, life science and healthcare and energy resource and innovation sectors.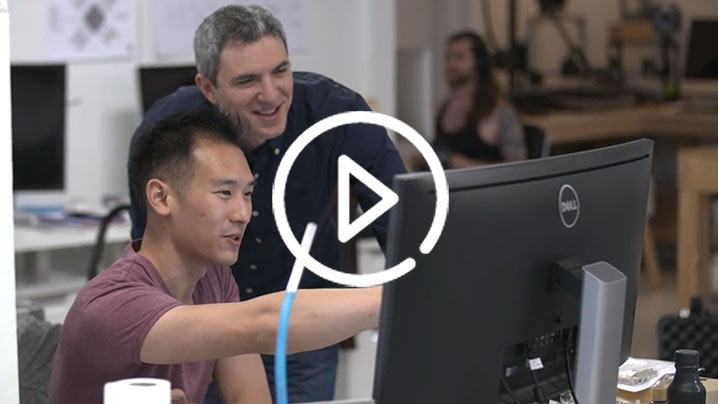 Take a Fresh Perspective
Bart Stein, CEO and co-founder of Wim Yogurt, describes how he turned an offhand idea for a frozen yogurt maker into a startup success.

Watch Video