Key Takeaways
In the current low-yield environment, there is a continuing need to capture incremental returns without taking on too much risk. Including BBB credits in your corporate cash portfolio might be part of the solution.
It's important to remember that BBB spreads are closely correlated with their higher-quality counterparts and have similar risk/return profiles.
Based on the available data and our analysis, the probability of credit downgrades from BBB to high yield remains relatively low, and most corporations have ample tools available to maintain investment-grade ratings.
This month's main article, Making the Grade, discusses why it may be good practice to include BBB-rated corporate bonds in an investment strategy. Also included are the following themes:
Making the Grade
Jose Sevilla, Senior Portfolio Manager
Please don't tell my kids that I'm advocating for straight B's. Yet that's exactly the case we're making in this month's Market Insights. Given the yield environment and current market dynamics, we'll explain why adding BBB-rated corporate bonds makes sense for many corporate cash portfolios.
As corporate cash balances grow, there is an increased need for additional diversification and incremental returns. Investing in BBB credits — corporate bonds that are still above investment grade but typically considered of medium credit quality — might be the answer. It significantly expands the investable universe with approximately 55% of front-end investment grade corporate market rated BBB. Allocating a portion of corporate cash portfolios to BBB credits does not mean you have to deviate from your primary objectives of capital preservation and liquidity. In fact, the liquidity in this segment of the market has been robust, thanks to an increase in BBB supply over the years that has been met with equally strong demand by investors looking for relative value. In addition, SVB Asset Management does not give a blanket approval to invest in all BBB issuers and continues to maintain our stringent and selective credit approval process before allocating in clients' portfolios.
Remember back in March 2020 when corporate credit spreads hit their widest levels since the 2008 financial crisis as liquidity tightened due to fears of how COVID-19 would affect the global economy? To placate markets, the Federal Reserve immediately stepped up and provided "unlimited" support, which included a pledge to buy investment-grade (IG) corporate bonds and hold them on its balance sheet. This successfully reduced market volatility, tightening spreads and spurring record-breaking bond issuance as companies took advantage of historically low interest rates to build cash in anticipation of a recession.
As a result, 2020 was a historic year for IG corporate issuance, as there were more than $2 trillion new bond issues that hit the market, with almost $900 billion coming from BBB-rated borrowers1, which helped boost the existing supply to $8.5 trillion IG bonds outstanding (Figure 1).
Figure 1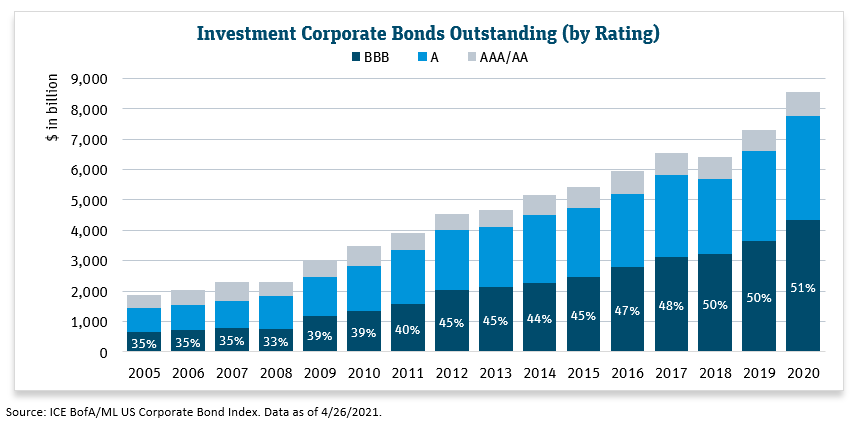 Another reason for the increase in BBB issuers was a credit migration from single-A to BBB (evidenced by the US Corporate Bond Index). From 2005 to 2020, the percentage of corporate bonds rated single-A or better decreased to 49% from 65%, with BBB credits now comprising 51% of the index (Figure 1).
Just as in school, B's represent good credit but not as good as A's. But that doesn't mean BBB credits dramatically change the risk profile. In our opinion, the risk-reward tradeoff looks attractive today and data shows the default probabilities are very low for BBB credits. The probability of a BBB credit defaulting over the course of one year is minuscule, at just 0.23%2a. Within three years, the probability increases to only 1.17%2a. In fact, we believe the primary risk is not so much for default, but rather the risk of potential downgrades to high-yield status. According to Moody's data, the probability of downgrade from BBB to high yield is lower compared to a downgrade from single-A to BBB (or lower)2b. The one-year credit rating migration rate from BBB to speculative grade is 4.34%, while the transition from single-A to BBB (or lower) is 5.68%2b.
For much of the BBB segment, we see numerous factors that mitigate the risks of a downgrade to speculative grade. For the most part, BBB-rated companies are large in size, have solid financials, consistent cash flow generation and strong access to liquidity. In order to maintain this access and gain favorable funding terms, BBB issuers are incentivized to maintain their investment-grade rating. They can achieve this in multiple ways, such as reducing or eliminating dividend payouts, share repurchases and through M&A transactions. They could also sell non-core assets to raise cash and prioritize the use of cash flows for debt management as needed. Check out this month's Credit Vista for more information on financial metrics, defaults and credit migration rates.
It's important to remember that BBB spreads are closely correlated with their higher-quality counterparts which indicates similar risk/return profiles. Historically, BBB corporates have provided solid investment returns, and the pandemic year was no exception. Over the past year, BBBs have returned 9.9%, which is comparable to their single-A counterparts (which posted a 10% annualized return in 2020)3. While over a span of five years, BBBs posted a 7.5% annualized return vs. 6.1% from single-A's3. Therefore, adding an allocation to BBB credits to your fixed-income portfolios might be a prudent way to enhance diversification and capture additional return in a risk-measured way.
Figure 2

Sources:
1 Barclays Live: US Investment Grade Corporate Update March 2021.pdf
2 Moody's Default Study 2020 Default Reports: Default-Trends-Global, 28Jan21
a. Exhibit 40: Average cumulative issuer-weighted global default rates by letter rating, 1920–2020
b. Exhibit 34: Average one-year letter rating migration rates, 1970–2020
3 Bloomberg Barclays Indices: US Aggregate (US Corporate Index)

Credit Vista: Get BBBs into the game
Tim Lee, CFA, Senior Credit Research Officer
Though corporate bonds rated AAA, AA and A may be considered top players in the IG universe, those rated BBB are equally impressive, thanks to characteristics that complement their higher-rated bond peers. But just as a team is greater than the sum of its parts, an IG portfolio missing an allocation to BBB credits lacks their risk-mitigating power of diversification, given that a large and varied swath of industrial sectors reside in the BBB space. Importantly, a portfolio without BBB credits also may be punting on incremental return potential that's coveted in this low-yield environment.

Consider the composition of the ICE BofA US Corporate Index (C0A0, a basket of US dollar IG corporate bonds) as of April 2021. If one were to exclude BBB-rated holdings, the opportunity set for industrials shrinks by 10 percentage points (to 61% by weighting). Though it may seem like a minor difference, that represents a significant loss of diversification if you look closely at the sectors.

Figure 1 below shows the total weight of industrial sectors in the index, with each sector's weight portioned between two rating buckets: AAA–A and BBB. Energy, healthcare and utilities are the three largest sectors, by total weight, while automotive, services and leisure have the smallest total weighting.

Figure 1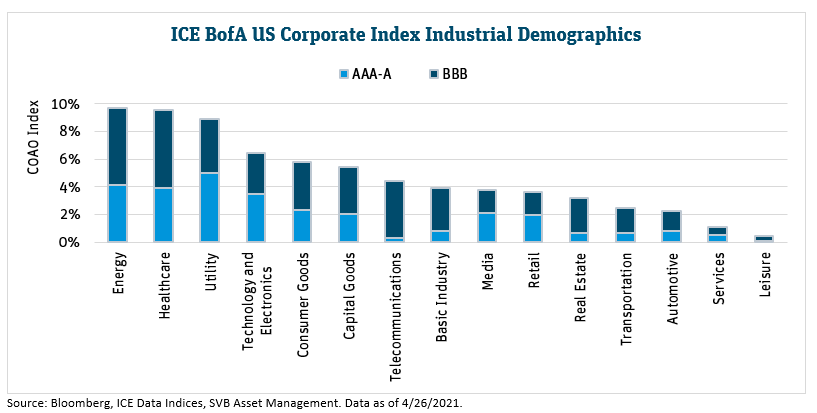 Looking at the rating composition of each sector in Figure 2, we find that BBB accounted for well over 50% of the entire weighting for 11 of 15 industrial sectors. Notably, 93% of the telecommunication sector, including mobile and high-speed data providers AT&T and Verizon, was in the BBB bucket, while 84% of the entire leisure sector, whose constituents include travel search engines Expedia and Booking Holdings, was composed of BBB. Healthcare and consumer goods, two sectors that have historically exhibited relative stability through different economic cycles, are composed of nearly 60% BBB. All this simply proves the diversifying power of BBB credits.

Figure 2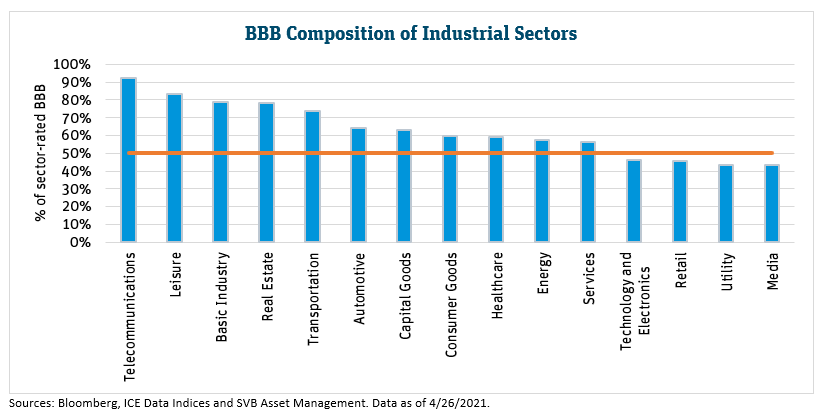 Excluding BBB from an IG portfolio not only degrades opportunities for diversification, but also any reduction in risk may be underwhelming, in our opinion. Default data in Figure 3 reveal the minimal default risk difference between the single-A category and the next rating category, Baa (which is Moody's BBB equivalent). The default rate only rose nominally, and increased modestly, over a five-year period. Historically, the compensation that investors have received for moving one category lower from single-A to Baa has more than covered the increased cost of default risk, which has been much less than 0.50% inside of three years.

Figure 3




It's important to note that credit fundamentals of BBB issuers are sound, both on an absolute and relative basis, compared to single-A issuers. For fiscal year-end 2020, the median net leverage (net debt to earnings before interest, taxes, depreciation, and amortization [EBITDA]) for BBB industrial constituents in the ICE BofA US Corporate Index (excluding utilities) stood at 2.6x, which was less than a one turn difference compared with the 1.7x median net leverage for single-A industrials.

Similar to its single-A peers, BBB industrials exemplified defensive, free cash flow generation amidst pandemic conditions in 2020, generating positive free cash that amounted to 15% of total debt during the year. An EBITDA margin of nearly 20% supported BBB industrial cash flow generation, and despite greater debt levels that led to higher interest payments, BBB interest coverage was a comfortable 3.9x.

Figure 4




Moreover, we view BBB credit fundamentals as currently having a wide cushion before entering non-IG territory as a "Fallen Angel." The median BBB industrial had net leverage that was two turns less than the median Fallen Angel industrial constituent in the ICE BofA US Fallen Angel High Yield Index and achieved nearly twice the EBITDA margin. Though the median Fallen Angel industrial also generated positive free cash flow in the last fiscal year (amounting to 9% of total debt), the median BBB industrial generated nearly four times more EBITDA than needed to cover interest expenses, while the median Fallen Angel industrial barely generated just enough to pay its interest.

With credit metrics much closer to its single-A peers, we view the increased risk of BBB being more than offset by potentially better returns and a more rounded, diversified IG portfolio.

Economic Vista: Light at the end of the tunnel
Paula Solanes, Senior Portfolio Manager
The weather is improving. Folks are getting vaccinated. The pandemic appears to be easing. And the economic data, on the whole, look pretty good. As a result, we are starting to see some light at the end of the tunnel. In the most recent Federal Open Market Committee (FOMC) meeting, while the statement was more positive, the Fed remains committed to an accommodative monetary policy to support the economic recovery.

The Fed continues to be focused on maximum employment and wants to see continuing broadening of the labor force, while also keeping a close eye on inflation. Although inflation is expected to spike in the near term, it's likely to be a temporary increase due to the low baseline comparison relative to last year when the pandemic abruptly halted economic activity. Given the Fed's new flexible average inflation targeting (FAIT), there will be room to leave rates low for longer to ensure a sustained recovery, and that appears to be the plan. And remember, even before the Fed raises the fed funds target rate, it first has to end its bond purchasing program, which is currently buying approximately $120 billion of securities per month. As expected, the Fed left the details of tapering bond purchases for a future meeting. So, while the Fed has commented that the economic activity and the labor market continue to improve, it is not quite ready to declare victory just yet. But looking at the latest data, things are moving in the right direction.

On the jobs front, data has been uneven the last two months. The month of April kicked off with strong payroll data for March with 770,000 jobs added over a 60% increase over the prior month. The robust increase was driven by a reduction in business lockdowns, ongoing improvements in the vaccine distribution and strong fiscal support. The jobs added were broad-based — exactly what the Fed is looking for — with additions from sectors hardest hit by the pandemic. The leisure and hospitality industries added 280,000 jobs, while public and private education added 190,000 jobs. The April payroll number was expected to increase by over 1 million jobs; however, non-farm payroll surprised to the downside with only 266,000 jobs added. There appears to be some recalibration as we move into a new normal. As seen in March, there was job growth in leisure and hospitality, which increased in April by 331,000 jobs while public education payrolls increased by 31,000. This was offset by declines in sectors that expanded with the pandemic such as couriers and grocery employment. In a sense, the labor market is seeing a rotation. As it stands, the April unemployment rate is at 6.1%, up slightly from 6.0% the prior month driven by an improvement in the participation rate to 61.7%. With the mixed data, the Fed will be patient and continue to monitor incoming data before making any significant adjustments.

Beyond the employment data, there were other signs of steady economic improvement. For example, ISM services index, a measure of US services industry activity and an important gauge given the pandemic's effect on this sector, remains steady at 62.7. This is a positive sign, suggesting that a strong rebound is underway. Retail sales, which also surged 9.8%, are another positive harbinger. All 13 retail categories showed gains in March, and aside from restaurants, all categories were stronger than they were in February of 2020. Expectations are for this momentum to continue, as pent-up demand, new stimulus checks and continuing vaccine rollouts point to consumers who are eager to return to a more normal lifestyle. The best retail categories included sporting goods and apparel, which were up 23.5% and 18.3%, respectively, followed by vehicle sales, which were up 15.1%.

Regarding the Fed's other mandate, headline consumer price index (CPI) this month showed the first glimpse of inflation, rising 2.6%, year-over-year; however, expectations are that this will be a transitory effect coming off the low baseline from last year. The Fed's preferred measure of inflation, core personal consumption expenditures (PCE), which excludes the typically volatile food and energy categories, also increased, albeit at a slower pace of 1.8% from 1.4%. While the measure is moving closer to 2%, will it continue and eventually reach and persist over 2%?

The data from the housing sector, one of the bright spots throughout this economic downturn, were mixed recently. Existing home sales fell 3.7%, the lowest level in seven months, due to higher home prices and relatively higher borrowing costs in the last few months. But the S&P CoreLogic Case-Shiller report showed that prices jumped 11.9% in February on a year-over-year basis, and new home sales jumped 20.7%, which is the highest level it has reached in almost 15 years.

So what's the bottom line in terms of economic growth? The first quarter 2021 reading for GDP (the advance estimate) increased 6.4% annually. Personal consumption increased 10.7%, fueled in part by goods consumption, which rose 23.7%, while services rose only 4.6%. As the year progresses, the tailwinds from fiscal support combined with greater normalization as more people are vaccinated will support future growth.

Trading Vista: Front end in short supply
Jason Graveley, Senior Manager, Fixed Income Trading
The front end of the yield curve has undergone a significant transformation over the last year, and like so many things, the pandemic has reshaped markets in a variety of ways. Before COVID-19, near-term yield trajectories were expected to remain comparatively high. Government money market funds were yielding 1.50% in early 2020, for example. That seems like an eternity ago and a far cry from where we are today.

The investment landscape has shifted abruptly, and the Fed's emergency rate cuts ushered in a period of zero interest-rate policy. As rates remained low and uncertainties high, retail and institutional investors stockpiled cash. But as markets stabilized and investors moved off the sidelines, there has been an influx of cash into the front end of the curve at a time when supply and demand dynamics have shifted considerably. Overall, Treasury supply is shrinking while corporate funding has focused on longer-term horizons. Meanwhile, these fundamental changes in issuance are also shaping sector performance.

Since the beginning of 2020, global money-market fund balances have increased by more than $1 trillion, with balances now sitting at $5.4 trillion in aggregate. This means $1 trillion more has been invested into fund complexes that are stretching for yield and searching for value. And while the aggregate is more than a trillion dollars, there has been a split in investor preference across money market fund types. Prime funds, which invest in corporate credit in addition to Treasury and government securities, have suffered from a net outflow. This has left Treasury and government funds to absorb the surge of cash, which has caused demand for T-bills and agency debt to soar. However, the supply side response has been underwhelming and has not stepped up to meet all the new demand. Year to date, net Treasury bill supply has contracted by $350 billion and is expected to shrink by another $100 billion by mid-summer.

A similar theme has also played out in corporate credit. With low prevailing rates, companies have opportunistically shored up their balance sheet by issuing longer-term debt while simultaneously reducing short-term funding needs. Year-to-date IG issuance has reached a record $465 billion, with the focus being maturities outside of five years. This shift has further reduced credit supply in the front end, as corporations scale down their commercial paper programs.

With fewer Treasury, agency and corporate credit options for an expanding investor base, where, exactly, have market participants been putting cash to work? Sovereign, Supranational and Agency bonds (SSAs), which we have discussed in a previous article, and BBB-rated bonds are two areas that have been gaining investor interest. Importantly, BBB-rated bonds are within the IG universe, with a one-notch cushion above speculative grade. Thus, they provide investors with ample liquidity, yield enhancement, added diversification, and incremental total return potential, while still meeting our stringent, independent credit review process. We are seeing an increased willingness to consider securities with lower credit ratings, which has coalesced with the general market direction. BBB volume grew by 26%, year-over-year, based on data from MarketAxess, largely because BBB credits present an attractive opportunity in a market with limited options.
Markets

Treasury Rates:
Total Returns:
3-Month
0.00%
ML 3-Month Treasury
0.01%
6-Month
0.02%
ML 6-Month Treasury
0.01%
1-Year
0.05%
ML 12-Month Treasury
0.03%
2-Year
0.16%
S&P 500
5.34%
3-Year
0.33%
Nasdaq
8.70%
5-Year
0.85%
7-Year
1.31%
10-Year
1.63%

Source: Bloomberg, Silicon Valley Bank as of 4/30/21