SVB Asset Management's monthly Observation Deck newsletter covers current topics on portfolio management, credit considerations and market events that influence investment strategy.
Synchronized uncertainty
Ninh Chung, Head of Investment Strategy and Portfolio Management
Heading into 2018, market consensus was for synchronized global growth to be underway supported by decade long accommodative monetary policies, fiscal stimulus and low inflation across the world's major economies. For the majority of last year, that thesis held true as the unemployment rate across many countries reached pre-crisis level, corporate earnings looked promising and small business owners' optimism reached an all-time high despite new bilateral tariffs and increasing geopolitical risks. As a result, financial markets experienced three quarters of low volatility with major indices yielding positive returns during the period. As policy and geopolitical uncertainties weighed on investor sentiment along with the realization that financial conditions were tightening, investor sentiment quickly turned to the downside bringing with it, historic volatility in the last few trading sessions of the year. The volatile close to 2018 set the stage for a year filled with uncertainties. Here we discuss the five market factors that will shape our investment strategies:
Central Bank Monetary Policies: The Federal Open Market Committee (FOMC) continues to be the lone wolf in its policy direction as it continues to exercise quantitative tightening and gradual increases to the benchmark rate. As expected, the FOMC decided to raise the federal funds rate to a target range of 2.25 to 2.50 percent in December. Additionally, the Dot Plot was revised to reflect 2 rate increases versus 3 in 2019, while 2020 and 2021 remained unchanged at 1 and 0 rate increases respectively. The Summary of Economic projections showed a downward revision to GDP, an upward revision to the unemployment rate and a downward revision to Core PCE. While other major central banks continue easing or hold-the-course policy, the divergence of benchmark rates could continue to place capital outflow pressures on less developed markets while the US yield curve continues to face flattening pressures.
For additional details, take a look at this Central Banks slide:
Central Banks: Taking a step back
Political developments, trade policy changes and the trailing effects of reversing years of monetary stimulus position major central banks to pause before taking new action. Employment conditions remain solid but mild inflation and decelerating growth provide scope to reassess monetary policies.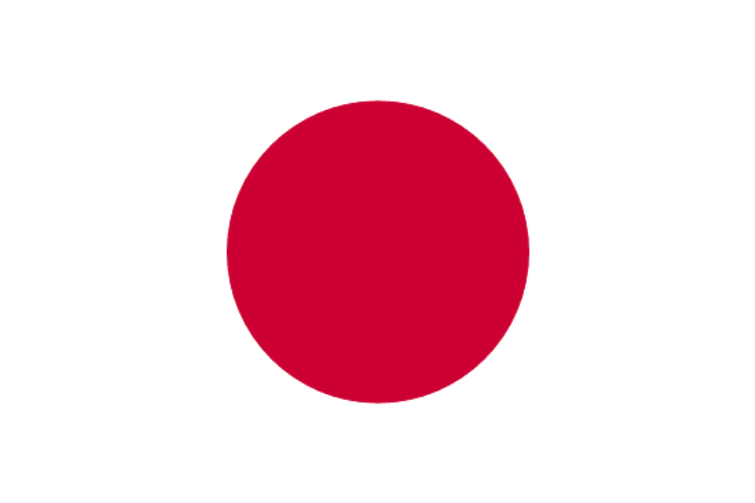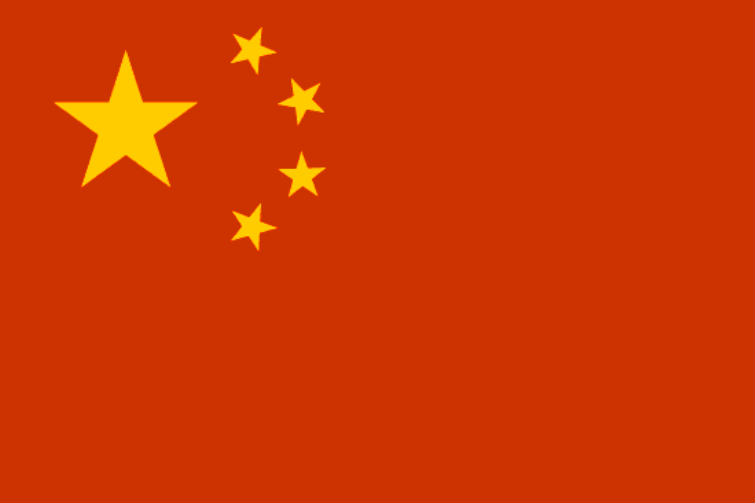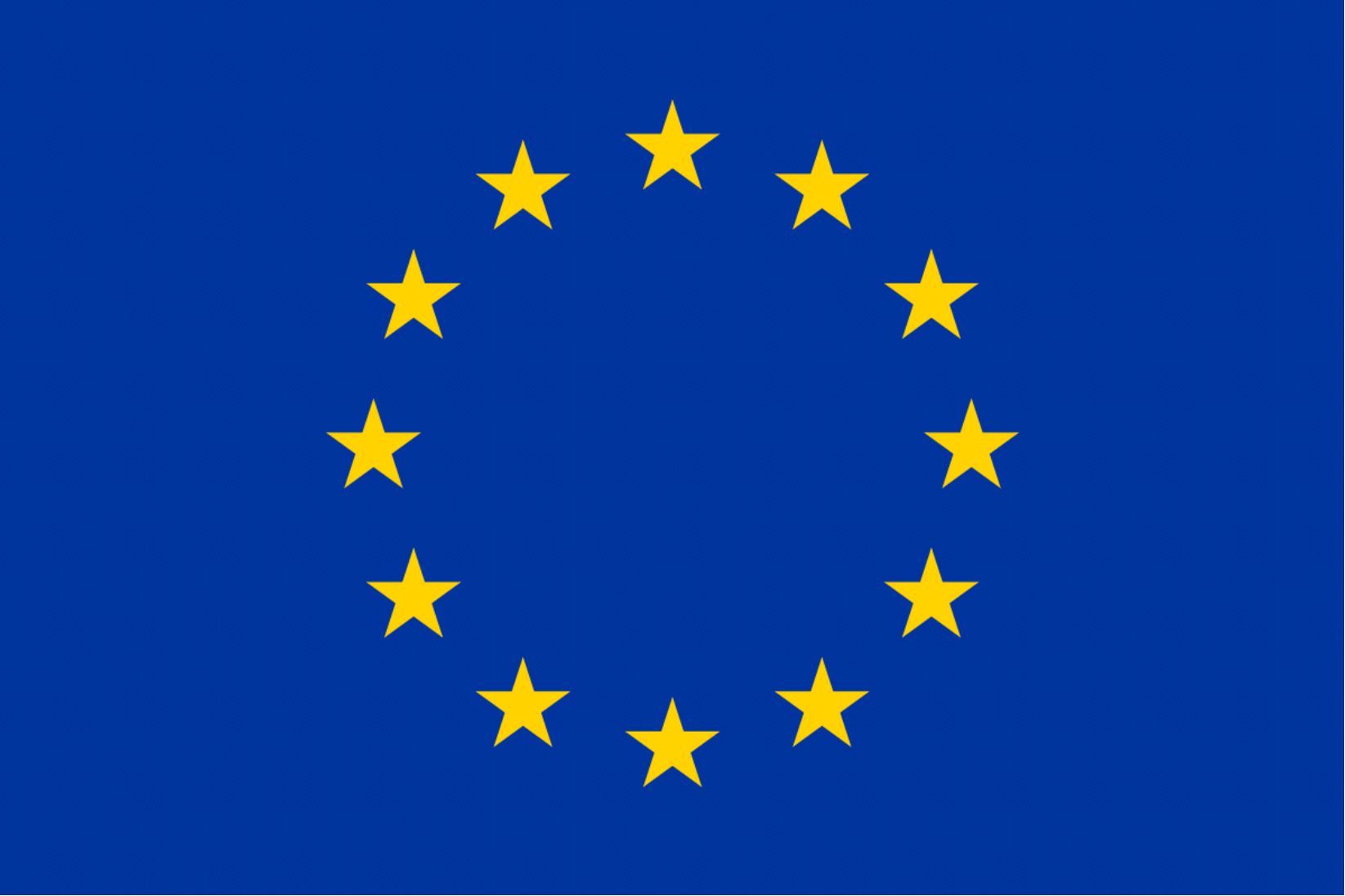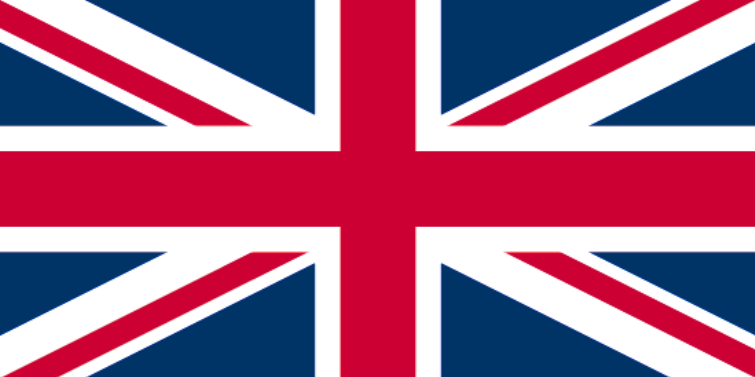 Policy Rate -0.1%
Ten Year JGB target rate 0%
QE annual purchases:

¥80t JGB
¥6t ETF
¥900 J-REIT
Deposit Rate 1.5%
Lending Rate 4.35%
Reserve Requirement Ratio (RRR) 14.5%
Refinancing Rate 0%
Marginal Lending Facility 0.25%
Deposit Facility -0.4%
QE purchases end December 2018
Bank Rate 0.75%
QE purchases ended; no change to holdings:

£435b Gilts
£10b Corporate Bonds
Fed Funds Target 2.25%-2.5%
Interest On Excess Reserves 2.4%
Reducing holdings monthly by up to:

$30b Treasuries
$20b Agency Debt
$20b MBS
No recent policy changes, but skewed toward easing, with the BOJ far from its 2% inflation target, softer demand for exports, and a tax hike in October.
Further easing is likely to cushion slowing growth and negative effects of trade policy changes. PBOC cut RRR 250bps total in 2018, with more RRR cuts anticipated.
ECB policy should remain unchanged ahead, after ending its QE program. Has committed to not raising rates before September 2019.
BOE policy to remain unchanged until there is clarity around the terms of the UK's withdrawal from the EU. A rate hike could follow a favorable exit.
No further rate hikes until at least Q2 2019, as political & policy uncertainties weigh on growth; balance sheet reduction tightening financial conditions.



SNAPSHOT OF ECONOMIC DATA
■
Japan
■
China
■
Eurozone
■
UK
■
US
Sources: Bank of Japan, People's Bank of China, European Central Bank, Bank of England, Federal Reserve Bank, and Bloomberg. Data as of 1/4/2019.
Policy Resolution: Domestic policy uncertainties were cited as major contributors to recent market volatility, but we should not ignore other factors such as tightening financial conditions and geopolitical uncertainties adding to investor concerns. Given the quick and deep market reaction in December, it appears markets have fully factored in policy uncertainties and as resolutions are reached, markets will surely benefit. For example, the deeply integrated and highly dependent economies of the US and China will likely resolve their trade disputes.
Plan for an Inversion: Technically speaking, the yield curve inverted last year as the 2-year Treasury-note was yielding higher than the 5-year Treasury-note, but we do not expect the 2/10s yield curves to invert for any sustainable period largely based on recent dovish Fed tone and sound economic fundamentals in the US. Nonetheless, we anticipate the yield curve will continue to flatten, therefore proper portfolio duration management can help deliver excess returns.
Corporate Credit Spreads: The past 10 years were an ideal period for corporate credit investors as steady credit spreads boosted total return and gradual increases in benchmark rates allowed investors time to reposition portfolios to capture additional income while minimizing adverse price impact. With increasing volatility in the market and expectations for corporate profits to decelerate from 20 percent last year to more normal levels of high single digits this year, we anticipate corporate credit spreads to normalize toward pre-crisis levels. Counterintuitively, this scenario should surface investment opportunities in high quality credits for investors with income as a core objective.
The Liquidity Frontier: We anticipate volatility to persist and market repricing to occur more frequently, therefore, investors with an active approach could benefit from opportunistic duration extension trades. The ability to add higher yielding securities as the Fed turns to a more dovish stance should position a portfolio for longer term success. Conversely, the front end of the yield curve should continue to help boost incremental income.
Combining these factors, the market will surely present surprises as it often does. A frequent and thorough evaluation of investment options from overnight to term solutions will help investors weather market volatility.
Economic Vista: A less hawkish 2019
Paula Solanes, Senior Portfolio Manager
With the steady monetary tightening that was a hallmark of 2018, it's only fitting that the Federal Reserve raised the federal funds target rate a fourth time by a quarter point to a range of 2.25 to 2.50 percent at the December Federal Open Market Committee (FOMC) meeting. However, the overall tone and message in the FOMC statement was clearly adjusted to reflect a less hawkish Fed. Early in 2018, the economy was charging ahead, but as the year wrapped up, data began to soften in some sectors and momentum slowed. The Fed is taking a close look at the mounting headwinds, including the fading benefits of tax reform, looming trade tensions, slower global growth and increased geopolitical discord, and it will continue to scrutinize incoming data this year, as it assesses the economic health of the economy and any future rate moves.
The labor market ended on a strong note in December. The payroll report showed that the labor market bounced back in December when 312,000 jobs were added, stronger than expectations of 184,000 new jobs. Last year there was sustained strength in the labor market with an average of 220,000 jobs added per month and a total of over 2.6 million jobs for the year. In addition, the unemployment rate in December increased to 3.9 percent from 3.7 percent. However, the increase was for good reason as the participation rate ticked up to 63.1 percent from 62.9 percent. Meanwhile, year-over-year average hourly earnings increased to 3.2 percent from 3.1 percent. Overall 2018 was a strong year for the labor market.
Inflation numbers released mid-November reflected that core inflation, which excludes more volatile components like food and fuel, remained on target, rising 0.2 percent on a month-over-month basis and 2.2 percent on a year-over-year basis. The headline inflation number was unchanged on a month-over-month basis and remained at 2.2 percent on a year-over-year basis, thanks largely to the recent drop in oil prices. The Fed's preferred inflation measure, Core Personal Consumption Expenditures (PCE), also remained stable at approximately 1.9 percent. The steady inflation numbers helped support the case for the Fed to raise rates by a quarter point in the December FOMC meeting.
When the holiday season kicked off, the consumer seemed to confirm the nation's relative economic health. Headline retail sales increased 0.2 percent vs. the 0.1 percent projected, while retail sales (excluding auto and gas) increased 0.5 percent vs. the 0.4 percent forecasts. In addition, November's retail sales (excluding auto and gas) were revised upward by 0.4 percent to an increase of 0.7 percent. While the recent drop in oil prices dragged down the headline retail number, it helped boost sales in other sectors as consumers spent less at the pump and more in other categories such as furniture, electronics and health and personal care. The strong start to the holiday sales season indicated a positive effect on fourth quarter GDP. However, moving into 2019, as the effects of tax reform fade and the ramifications of higher interest rates spread through the economy, we expect consumer spending to slow.
Housing data also continues to show that the sector has softened, as home affordability has decreased slightly due to higher mortgage rates. In November, housing starts increased 3.2 percent; however, the number was driven higher by a rise in multifamily homes, while single-family home starts declined. Meanwhile, existing home sales increased 1.9 percent in November, a second monthly increase in a row after falling most of the year. Data shows that all regions except the West contributed to the increase. However, the decline in the West is likely due to the impact of the wildfires experienced in that region. Given the trajectory of mortgage rates, the housing sector is likely to continue softening as lean inventories and relatively higher borrowing costs dampen activity.
Given all this data, it's no surprise that GDP for the third quarter was revised downward by a tenth of a percent to 3.4 percent. This is mainly due to downward revisions in business investment and personal consumption. The Fed will continue to monitor GDP and all the key economic metrics as it adjusts its monetary policy for 2019.
Credit Vista: Cruise control
Tim Lee, CFA, Senior Credit Risk and Research Officer
Firm demand for used cars has cleared the road for asset-backed securities (ABS) collateralized by US auto leases (auto lease ABS). This has resulted in robust credit performance for these assets, thanks largely to favorable realized residual values. Residual value represents the amount received from a vehicle at lease maturity, and it typically represents more than half of the planned total cash flow in an auto lease ABS transaction. Since the majority of the cash flow is derived from the sale of off-lease vehicles, residual values are a key ingredient to the credit quality of auto lease ABS.
The recent favorable residual values realized on off-lease vehicles, along with the traditionally high FICO scores of lessees and very low rates of lease defaults, have contributed to a zero 12-month downgrade rate for US auto lease ABS for the time period ending September 2018, according to data from Moody's Investors Service. Comparatively, the 12-month upgrade rate was 15 percent. In fact, there has not been a default or a downgrade on US auto lease ABS transactions rated by Moody's, based on their data going back nine years.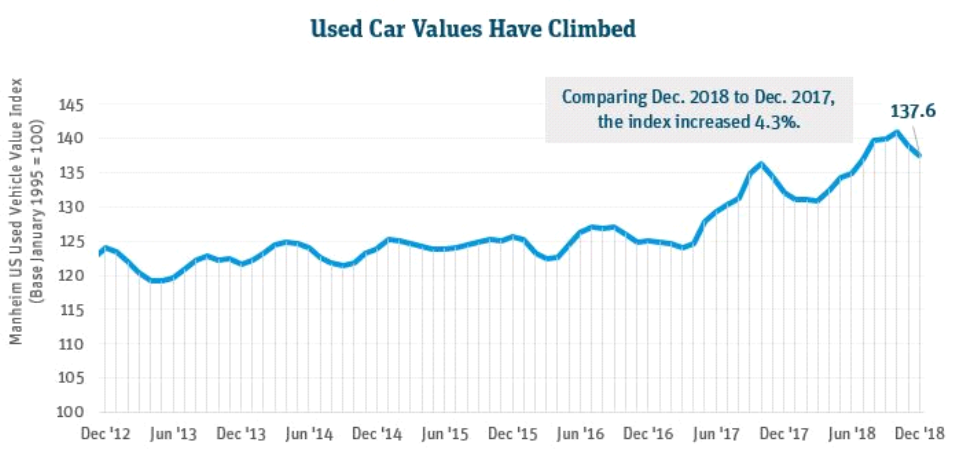 Source: Manheim US Used Vehicle Value Index as of 12/31/2018
After a strong run-up, however, prices for used and off-lease cars are likely to level off or even wane as the supply of used cars is expected to increase in 2019. Car research company Edmunds.com predicts there will be an increase of 300,000 more vehicles entering the car market due to lease expirations. Despite the increase in supply, there are several factors that should be supportive of used car prices and off-lease vehicle residual values:
Sport utility vehicles (SUVs) in demand: Some of the supply increase will be from SUVs, which are very popular with current car buyers. Edmunds.com found that almost half of all car owners are choosing an SUV as their next vehicle.
Reduced supply of cheaper cars: There are fewer lower-priced vehicles currently available in the market, according to Edmunds.com. That should be supportive of prices for off-lease sedans.
Wider spread between new and used cars: A large difference between the average price of a new and a used car has pushed more consumers into the used car market, particularly for newer, off-lease vehicles with certified pre-owned programs that buyers find as appealing substitutes for a new car.
Financing challenges: Higher interest rates and higher price points for new cars will continue to move buyers to more affordable off-lease vehicles and other used vehicles that have lower payments.
Auto tariffs: If tariffs are enacted on autos or the auto supply chain, car prices will likely move higher and shift buyers further into more attractively valued off-lease vehicles and other used vehicles.
Even if realized residual values drift back to more average levels as used car prices normalize, credit fundamentals should remain solid and allow auto lease ABS to remain in cruise control.
Trading Vista: Risk-Off resolution
Hiroshi Ikemoto, Fixed Income Trader
As we charge ahead into the new year, investors' appetite for risk appears tepid at best. The risk-off trade was in full bloom as we closed out 2018, but that's hardly a surprise given the dubious news flow. The government shutdown, trade wars, falling oil prices and softening economic data have spooked many investors away from the equity market and into "safe haven" assets. Even as the Federal Reserve raised rates another 25 basis points (bps), the two-year Treasury benchmark note rallied throughout December as yields dropped 30 bps month-over-month to finish 2018 at 2.49 percent.
Looking at the overall Treasury yield curve, we see small yield inversions from the one-month to three-month curve, the one-year to two-year curve and the two-year to three-year curve, which suggests the markets may be bracing themselves for the Fed to cut rates sooner than expected. The Federal Funds Futures Implied Probabilities on December 31 showed, for the first time since the financial crisis, that there was a possibility of a rate cut in 2019.
In the investment-grade bond market, we also saw rates tighten. Typically at the end of the year, trading firms are actively clearing out their inventories, and we usually see offers that are cheaper than during other times in the year. This year was different as the heightened volatility in the equity markets brought strong demand to the bond market, pushing the Euro Dollars Synthetic Futures (EDSF) curve, the benchmark used to price bonds in the money markets, tighter by 17 bps in the one-year part of the curve. This rally in the longer end caused the EDSF curve to flatten completely, as 90-day yields and one-year yields were both at 2.72 percent.
With all the volatility we are seeing in the markets, along with the geopolitical and headline risks, we will continue to advocate for a defensive duration strategy, which provides our portfolios the flexibility to capture additional income when the opportunities arise without undermining our commitment to capital preservation.
Markets

Treasury Rates:
Total Returns:
3-Month
2.36%
ML 3-Month Treasury
0.18%
6-Month
2.48%
ML 6-Month Treasury
0.22%
1-Year
2.60%
ML 12-Month Treasury
0.36%
2-Year
2.49%
S&P 500
-9.03%
3-Year
2.46%
Nasdaq
-9.38%
5-Year
2.51%
7-Year
2.59%
10-Year
2.68%

Source: Bloomberg, Silicon Valley Bank as of 12/31/18
0119-0003KHEXP123119