SVB Asset Management's monthly Observation Deck newsletter covers current topics on portfolio management, credit considerations and market events that influence investment strategy.
Don't stress these tests
Nilani Murthy, Senior Credit Risk and Research Officer
It's that time of year — test time. Every summer, the Federal Reserve performs annual stress tests for bank holding companies as required under the Dodd-Frank Act. The banking sector passed with flying colors, and in the eyes of the Fed, all institutions should be able to withstand a severe recession. Additional highlights and details follow.
The exam
The Dodd-Frank Act Stress Tests (DFAST) are forward-looking exercises to help assess whether institutions have sufficient capital to absorb losses and continue operating during stressful economic and financial conditions over a period of nine quarters. The Comprehensive Capital Analysis and Review (CCAR) assesses whether large bank holding companies have forward-looking capital planning processes that account for their unique risks and are supported by the companies' risk-measurement and risk-management practices.
High marks
All 35 bank holding companies tested passed the DFAST test by maintaining enough capital under a severely adverse stress scenario. These results reflect the tested banks' ability to withstand market shocks and to continue operating during a stressed economic period of nine quarters. This illustrates that banks have strengthened their balance sheets since the financial crisis and continue to improve their readiness for any potential adverse economic and financial shocks. The severely adverse scenario used in the 2018 stress test cycle features a more severe downturn in the U.S. economy compared to the 2017 scenario.
The DFAST Severely Adverse scenario, among other things, includes:
7.5 percent peak-to-trough decline in U.S. real gross domestic product (GDP)
An increase in the unemployment rate to 10 percent
A 65 percent decline in equity prices by early 2019
Severely stressed financial conditions in corporate and real estate lending markets
A 30 percent decline in housing prices and a 40 percent drop in commercial real estate prices by third quarter 2019
An international recessionary scenario with a decline in consumer prices
In addition to the above, the eight Global Systemically Important Banks (G-SIBs) are further subjected to the sudden default of their largest loss-generating counterparty. Further, six of the eight G-SIBs (BNY Mellon and State Street are excluded) are subject to an additional global market shock (capturing financial market risk) and counterparty default components.
Got capital?
Also, worth pointing out is that of the 35 banks, all but one, Deutsche Bank USA Corp, received the Fed's approval on their capital plans under CCAR.
What does all this mean? The results suggest the nation's largest banks have sufficient capital to continue operations throughout times of economic and financial market stress. It also indicates that they possess robust, forward-looking capital planning processes that account for their unique risks and incorporate actual requested capital distributions such as dividend payments and common stock repurchases.
Moreover, it incorporates quantitative factors from the DFAST exercise into the review, including four mandatory elements of a capital plan:
An assessment of the expected uses and sources of capital over the planning horizon that reflects the bank's size, complexity, risk profile and scope of operations (assuming both expected and stressful conditions)
A detailed description of the bank's processes for assessing capital adequacy
The bank's capital policy
Any expected changes to the bank's business plan that are likely to have a material impact on the capital adequacy or liquidity
Due to the recently passed Economic Growth, Regulatory Reform, and Consumer Protection Act, bank holding companies with less than $100 billion in total consolidated assets are no longer subject to supervisory stress testing, including both the DFAST and CCAR. As expected, we are pleased to point out that all U.S. banks on SVB Asset Management's current approved issuers list passed the DFAST and CCAR. The results show that banks have significantly strengthened their balance sheets post–financial crisis. Even in the event of a severe market shock, banks' current and projected plans should provide for sufficient capital to absorb potential losses. That's good news for both the overall financial system and credit investors focused on the financial sector.
Credit Vista: Financials are getting more "likes" this year
Tim Lee, CFA, Senior Credit Risk & Research Officer
Through the first six months of 2018, U.S. investment grade corporate credit ratings are steady on an overall basis, as strong performance in the financial sector helped offset weaker conditions in the industrial sector. The three largest credit rating agencies issued almost the same number of positive and negative rating actions, leading to an Up/Down Ratio of 1.0, signifying there was approximately one Up action (e.g. a rating upgrade, a positive outlook) for every one Down action (e.g. a rating downgrade, a negative outlook or a downgrade watch). However, investment grade U.S. financial corporates recorded a more positive Up/Down Ratio of 1.5, as the 188 Up actions outnumbered the 122 Down actions.
In the industrial sector, the Up/Down Ratio was 0.8, as Down actions outnumbered Up actions by a multiple of 1.3. The utility sector had the most negative experience, with two down actions for every one up action, due, in part, to Moody's view that last year's reduction of the corporate tax rate will have an undesirable impact for certain regulated utilities. The communications sector also experienced weakness, as competition from new content creators is inducing debt fueled vertical M&A activity. On the contrary, sales growth, strong free cash flow, debt reduction and benefits from tax law changes contributed to up actions tripling down actions in the technology sector. There were also financial improvements of companies in the basic materials and energy sectors due to strength in oil and other commodity prices.
For the second half of the year, the financial sector is anticipated to have stable credit positions, while industrial companies remain vulnerable to weakness from shareholder spending and M&A activity, particularly in consumer noncyclical companies where the healthcare sector is undergoing vertical consolidation and the consumer goods sector is undergoing changes driven by changing consumer preferences. In addition, potential changes to trade policies and tariffs will impact U.S. industrial companies more than financial firms. Technology, basic materials, industrial, consumer cyclical, and consumer noncyclical are among the sectors likely to be negatively impacted due to higher costs in the supply chain and in finished goods form.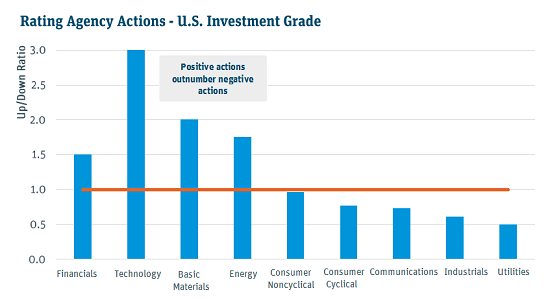 Source: Bloomberg, SVB Asset Management
Economic Vista: Ready and steady
Paula Solanes, Senior Portfolio Manager
As widely anticipated, in the June 13 Federal Open Market Committee (FOMC) meeting, the committee decided to raise the federal funds target range by 25 basis points (bps) to a range of 1.75 to 2.00 percent. This was the seventh rate increase since the Federal Reserve embarked on this tightening cycle way back in 2015. Although no one was surprised by this decision, this statement came off a bit more hawkish than many expected. The Fed upgraded its view on economic activity to "solid" from "moderate," while also citing that personal spending "has picked up." These nuances in the language are subtle but important, and the markets often take their cues by parsing the Fed's words.
Another meaningful change to the statement was the removal of forward guidance language. This language has long been considered helpful, especially during crisis periods, though Fed Chairman Jerome Powell indicated that such language will have a significantly smaller role going forward. The removal of forward guidance likely illustrates a quiet confidence in the underlying economy. Other notable highlights from the recent statement included: headline and core personal consumption expenditures (PCE) were both forecast to be approximately 2.0 percent; the unemployment rate projection was forecast downward to 3.6 percent from 3.8 percent; and the 2018 GDP was revised slightly upward to 2.8 percent.
In other economic data, recent nonfarm payrolls came in at 213,000 which was better than expectations of 195,000, while the unemployment rate rose to 4.0 percent. In addition, average hourly wages increased 2.7 percent on a year-over-year basis.
On the inflation front, all measures are now at or above the Fed's 2.0 percent target. Inflation readings in June revealed that prices are accelerating in categories across a variety of sectors, which can be attributed, in part, to steady wage growth in a tight labor market.
Also, supporting the case for continued measured rate increases, retail sales figures released in June rose to a six-month high, exceeding forecasts and fueling expectations for strong growth in the second quarter. Retail sales increased 0.8 percent from the prior month, and the retail control group sales increased 0.5 percent, also beating expectations.
The final estimate for real GDP showed an increase of an annual rate of 2.0 percent for the first quart of 2018, this was a downward revision from 2.2 percent. The downward revision was driven lower by consumer consumption, net exports and inventory accumulation. In addition, residential investment declined for the first time in seven years. On a positive note, nonresidential fixed investment was revised higher.
Overall the U.S. economy continues on firm footing, adding further support to the Fed's shift toward a fourth interest rate hike in 2018.
Trading Vista: No surprises, no volatility
Hiroshi Ikemoto, Fixed Income Trader
The market is often the ultimate discounting mechanism, and it appears that traders have been adept at properly handicapping most of the potential market-moving news. As a result, we saw little volatility in front-end rates in June as the markets priced in the widely expected Federal Reserve rate hike. The two-year Treasury note traded in a tight range of five basis points (bps) throughout the month, while credit spreads widened by five bps for bonds maturing inside two years. This spread widening, along with a backup in the Eurodollar synthetic forward rate agreement (FRA) curve, which is the benchmark used to price corporate bonds inside 13 months, has conspired to boost overall yields in our space.
Also noteworthy was how the Fed's Summary of Economic Projections shifted slightly to project a total of four rate hikes in 2018. As a result, the market interpreted the Federal Open Market Committee (FOMC) messaging as hawkish, and we saw additional steepening inside two years. This has made yields in the nine- to 15-month range particularly attractive.
Demand is still strong for securities maturing inside one year, as many investors continue to stay on the shorter side of their duration range to protect against rising rates. However, with the Fed becoming even more transparent under Fed Chairman Jerome Powell, we are seeing that the market has so far priced in rate increases fairly accurately this year. In general, we continue to position our accounts to maintain nimbleness, as we look for opportunities in what is still projected to be a rising rate environment.
0718-0167DMEXP063019
The views expressed in this column are solely those of the author and do not reflect the views of SVB Financial Group, or Silicon Valley Bank, or any of its affiliates. This material, including without limitation the statistical information herein, is provided for informational purposes only. The material is based in part upon information from third-party sources that we believe to be reliable, but which has not been independently verified by us and, as such, we do not represent that the information is accurate or complete. This information should not be viewed as tax, investment, legal or other advice nor is it to be relied on in making an investment or other decision. You should obtain relevant and specific professional advice before making any investment decision. Nothing relating to the material should be construed as a solicitation, offer or recommendation to acquire or dispose of any investment or to engage in any other transaction.
All material presented, unless specifically indicated otherwise, is under copyright to SVB Asset Management and its affiliates and is for informational purposes only. None of the material, nor its content, nor any copy of it, may be altered in any way, transmitted to, copied or distributed to any other party, without the prior express written permission of SVB Asset Management. All trademarks, service marks and logos used in this material are trademarks or service marks or registered trademarks of SVB Financial Group or one of its affiliates or other entities.
SVB Asset Management is a registered investment advisor and nonbank affiliate of Silicon Valley Bank, and member of SVB Financial Group.
Investment products offered by SVB Asset Management:
| | | |
| --- | --- | --- |
| Are not insured by the FDIC or any other federal government agency | Are not deposits of or guaranteed by a bank | May lose value |
SVB Asset Management may receive service fees for investments made in certain money market mutual funds.